Career
Q1 :

When will graduate trainees and interns be recruited every year?

A: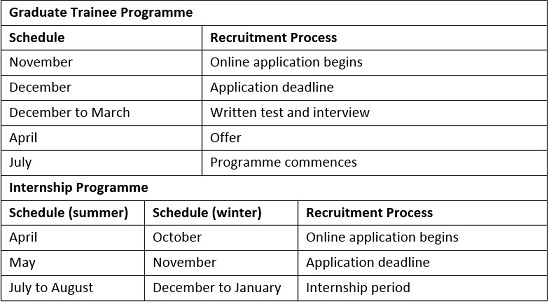 Q2 :

How many graduate trainees and interns will be recruited every year?

A:

We do not preset a fixed number of intake for every year. It largely depends on our budget and manpower needs, as well as the quality of the applicants.
Q3 :

Does the SFC have a preference for degrees in certain disciplines?

A:

Unless specified, applicants from all academic and professional background are welcomed. Some positions may require specific skills and qualifications; the job description will detail the expected prerequisites.
Q4 :

Can I apply if I am not a Hong Kong citizen or permanent resident?

A:

Yes. We will sponsor work visas (subject to availability) for successful applicants who do not have the status of a Hong Kong resident.
Q5 :

What qualities are expected of the candidates?

A:

We base our selection on an individual's abilities to meet the requirements of the position, including their educational background, experience and past performance. In addition, we also will take into account whether one can fit in our culture and has the right attitude to succeed.
Q6 :

Can I attempt other openings if my previous application was unsuccessful?

A:

Yes, we will consider all applications that meet the requirements of a position.
Q7 :

Can I apply for more than one position?

A:

Yes, applications for more than one position will be considered as long as they meet the job requirements. However, the job nature of different positions may differ considerably. Therefore, we encourage applicants to study each job description carefully before submitting an application.
Q8 :

When will I be notified about my application?

A:

A shortlisted applicant is notified by telephone and email. The process usually takes place within six months from the date of application.

Last update: 2 Sep 2020