Zeng Lingxi (曾泠樨)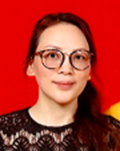 Zeng Lingxi (曾泠樨)
Nationality: Chinese
Sex: Female
Date of birth: 27 Apr 1975
Place of birth: China
Background Information:
On 26 June 2020, two summonses were issued against Zeng for the offence of obstruction, contrary to sections 382(1)(b), 191(2)(a), 191(6)(b) and 191(7)(b) of the Securities and Futures Ordinance Cap. 571 (SFO).
Zeng is summoned for obstructing employees of the Securities and Futures Commission in the execution of a search warrant and in exercising the powers under the SFO during a search operation on 20 May 2020 at an office premises in relation to an investigation of possible market manipulation of the shares of a Hong Kong-listed company.
A warrant to arrest Zeng was issued by Mr Peter Yu, Magistrate, for failing to attend a hearing at the Eastern Magistrates' Court on 1 April 2021.
The SFC has credible information that Zeng has left Hong Kong on 15 November 2020.
Last update: 1 Apr 2021